Walking Trail : There is now a nicely paved walking trail at New Bridgeville Recreation area, open to the public.

---
The work completed on the playground equipment and fence at the New Bridgeville Recreation Area by Jesse Stermer, in working toward his Eagle Scout Award, was greatly appreciated by the Recreation Board and Township Supervisors.
---
Conrads Boys Baseball signups at New Bridgeville Firehall


www.leaguelineup.com/conrads - website for boys
www.leaguelineup.com/chanceford - website for girls
---
Chanceford Township Girls Softball.

* For more information contact: Adam Norris (717-515-2629)
Ryan Moore (717-891-6796)
email: Chancefordsoftball@comcast.net
---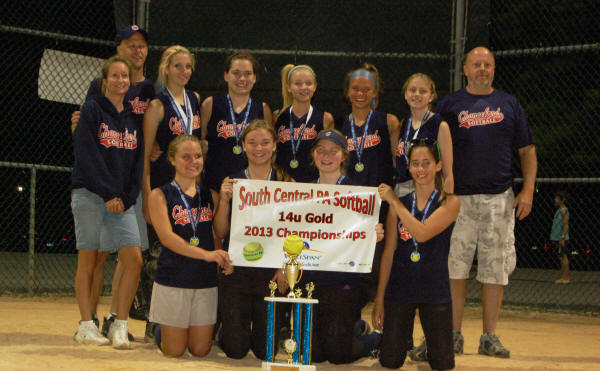 Congratulations to the Chanceford Stitch Rippers for winning the South Central PA softball 2013 14U gold Championship game versus Panthers Orange Dynamite on July 30,2013. The Stitch Rippers finished their season with a record of 13-2. Pictured left to right (front row): Hollie Koester, Sarah Salefsky, Lexi Fournier, Rachel Saffell.
(second row): Asst. coach Dawn Steinhoff, head coach Jeff Steinhoff, Serena Zearfoss, Jayla Tyson, Sam Steinhoff, Nicole Thomas, Kayla Moore and asst. coach Ryan Moore. Not pictured Sara Simms.

---